BELSORP-mini X - BET surface area, porosimetry and sorption measurement.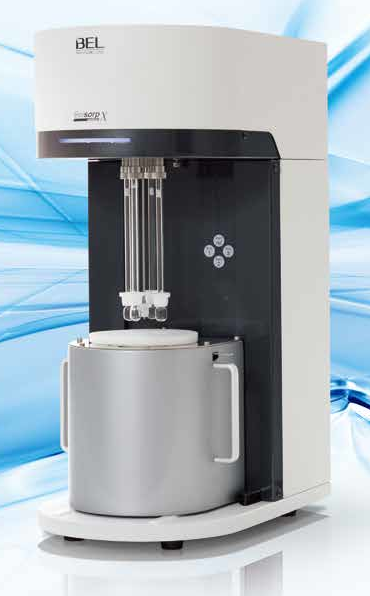 The BELSORP-mini is the most widely used member of the Microtrac-BEL range of sorption and porosity analysers.
BELSORP-miniX gives reliable, rapid, accurate sorption measurements on multiple samples. Building on the features of the successful BELSORP mini II, the mini X offers :
BET Analysis, Langmuir surface area,
BJH, NLDFT, GCMC,
Sorption isotherm measurements
Pore size measurements
3 or 4 samples
Dedicated P0 port, continuously measured.
GDO auto dosing allows highest throughput.
AFSM™ for accurate handling of gas free space quantification.
BELSORP-miniX is perfectly adapted for:
Surface area by traditional (BET, Langmuir) or DFT methods.
Physisorption analysis of porous and powder materials:
Meso-porosity analysis.
Nitrogen, Argon, CO2, and other non-corrosive gases.
Nano-, micro–porosity analysis with CO2 at 0 °C.
Precise physisorption measurement
Dedicated dosing manifold and pressure transducers for each cell allows measurement of the adsorption process in the smallest possible volume to maximise sensitivity and enhance throughput.
Direct measurement of free space during the whole experiment by AFSM® eliminates artefacts due to incorrect and fluctuating cold-zone corrections/compensation.
Software
Full MiniX experiment configuration and instrument control software is supplied

Provides complete control of automatic sorption measurements
Clear display of measurement progress
Automatic SystemTest mode for self-diagnosis. Manual control mode for troubleshooting.

Independent BELMaster data analysis and modelling for online and offline data treatment in the lab or in your office. The comprehensive library of data analysis models includes all of the models you expect, including :


Surface area (single and multi-point B.E.T., Langmuir, STSA, t-plot, alpha-s, DR),
Pore size (BJH, DH, DA, MP, HK, SF) with their corresponding surface area values,
NLDFT, GCMC simulation.
…and much more.
Sample pretreatment
We have a range of options for sample preparation and degassing, both manual and automatic. Please contact us for details.
---
For your most demanding measurements, you might also like our BELSORP-max-II instrument, for low pressure measurments, condensable species, and a variety of temperature ranges.
For more information, please send us a message from our contact page, or see our details below.