Humidity Generators : MHG for RH and Dewpoint regulation in volumes from 10 ml up to 300 litres.
The MHG-32 and MHG-100 systems from ProUmid GmbH are flexible humidity generators.
The Modular Humidity Generator concept is extremely flexible.
With remote sensor for Relative Humidity (HR), optional temperature probes, gas injection at point of use, it can :
provide a simple stream of gas of controlled hygrometry
give smooth regulation of humidity or dewpoint inside a wide range of test chambers and other experimental systems
give rapid step changes of RH
adapt to varying temperatures
work in restricted geometries, even in applications where it is not possible to introduce a humidity sensor.
Principle of humidity control
The MHG systems provide a flow of air with controlled hygrometry, using a capacitive RH sensor at the point of use for feedback control of the moisture supply.
The main components are :
A remote combined humidity/temperature sensor, to integrate in the target chamber
A controllable source of humidified gas - typically air - which is combined with dry air for rapid setpoint changes
Feed back control, which allows the user to program a setpoint for the humidity at the point of use
Optional features include a secondary temperature sensor, to correct for non-isothermal systems.
The principle of the MHG is to adapt to the temperature at the point of use. Temperature regulation can be imposed by the user, or the system can function at ambient temperature.
A simple humidity control application of MHG
The sensor is installed inside the test chamber, at the target position, giving a direct measurement of hygrometry.
Feedback control of the supply of humidified air to the chamber provides hygrostatic control at the point of measurement.
The MHG systems adapt to the temperature of the test environment, as measured by the sensor.
More complex installations
There are many cases where it is not possible to install a humidity sensor at the point of use, either due to lack of physical space, or due to temperature incompatibility or heat flow considerations.
It is often useful to operate the system in a multi-zone configuration, where the target zone is at a temperature different from the sensor zone. The MHG can adjust the conditions in the sensor zone in order to obtain the desired target setpoint humidity. The target temperature can be provided :
from a direct reading by the MHG, with an optional PT-100 sensor,
by manual input to the MHG front panel
over the RS232 or Network communications interface, for example using LabView.
We have experience in helping people to design their humidity controlled installations. Please contact us if you would like to discuss your application.
Humidity Generator MHG32 : for precise humidity regulation of small volumes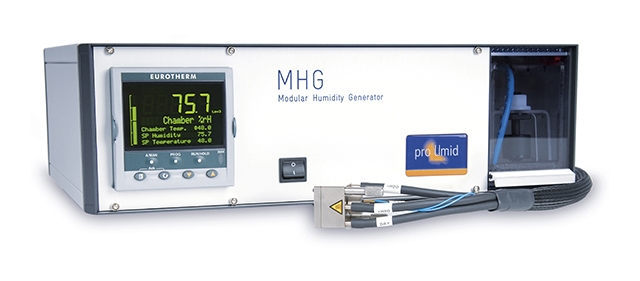 Compact remote vapour generator

attaches directly to the test system
immediate no-delay supply adjustment for precise regulation
small system volumes
low flow rates
latent heat compensation of vaporiser

Ideal for humidity-controlled analysis and test chambers :

spectrometers
XRD diffractometers
microscopes
physical and mechanical analysers: DMA, rheometry, flowability, and other powder properties
analytical instruments
Humidity Generator MHG100 : for large volumes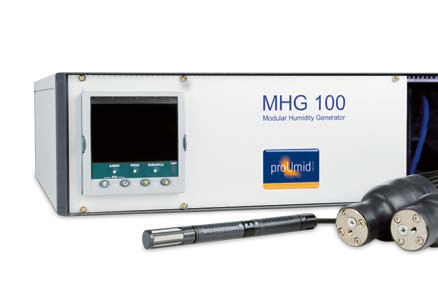 The MHG-100 is designed for larger volumes, where large amounts of water vapour must be supplied to give rapid regulation of humidity.
Vapour generation inside the control unit

for maximum vapour supply rate at high flow rates
chiller connection for enhanced low temperature operation

Twin vapour supply lines

large vapour volumes
improved uniformity
rapid response in large systems

Ideal for:

conditioning chambers and incubators
gloveboxes
larger sample transfer chambers
Feature Comparison
MHG-32
MHG-100
Chamber volume (Note 1) :
0.02…20 Litres
1…300 Litres
typical
Flow rate :
5…500 ml/minute
 (1000 on request) 
 0…15 
 litres/minute 
Temperature range (Note 2) :
2…95 °C
5…90 °C
Humidity range :
2…98 %RH
5…95 %RH
at T <75 °C
Humidity accuracy :
±0.6 %RH
±0.6 %RH
(0…100 %RH at 23 °C ±5 °C )
Note 1 : The ratio of flow rate to chamber volume determines the rate at which humidity can be changed. The suggested values of chamber volume are for typical applications. Please contact us if you have different requirements.
Note 2 : The MHG does not regulate the temperature, it adapts to the temperature of the test system.
Options and Advanced features
Software interfacing and remote triggering
The MHG can be controlled using the front control-panel buttons.
Software is also available for:
configuration and control adjustment
data logging and export to file
Ramp, step and soak humidity profiles
triggering by software or hardware inputs
interfacing by RS232/Modbus or Ethernet
Humidity Correction for Thermal zones
When it is not possible to install a humidity sensor in the zone of interest, the sensor can be installed in a secondary area at a different temperature. The controller compensates the humidity setpoint for the temperature difference between the humidity measurement point and the target temperature, which can be measured with a secondary temperature sensor, or manually set. Please contact us for details.